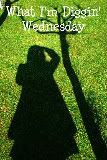 Halfway through the week....would it be wrong of me to say that I'm not ready for the weekend, yet? The life of a mom, working or not is hectic. Then it's the weekend. You know, that break that comes on Friday night and last until Monday morning? My "break" this weekend will include:
Soccer pictures for G at 7:30 am. Yep. 7:30. A.M.
2 soccer games at 8:30am on Saturday. Yep. 8:30. A.M.
Birthday party to chauffeur T to at 7:30 that night
Celebration for my nephews that night as well....one is turning 18 and one just became a Marine. Amazing milestones.
Sunday....church, of course.
Another Birthday party at 1pm
T's soccer game at 3pm....an hour and 15 minutes away
So.....my "break" of a weekend is awfully packed. I am grateful though to have them involved in sports and have the friends they do.
What I'm Diggin' this week.....link up and create your own WIDW post!
#pinning! Aren't you so sick of Charlie Sheen and his stupid catchphrases??? Let's change it to #pinning! and just be happier in general.
Since I didn't link up to Pin It Tuesday....I am having withdrawals and decided to put my faves this week in my WIDW. So here you go....

My #30 at last night's game
Scripture of the day:
Be prepared. You're up against far more than you can handle on your own. Take all the help you can get, every weapon God has issued, so that when it's all over but the shouting you'll still be on your feet. Truth, righteousness, peace, faith, and salvation are more than words. Learn how to apply them. You'll need them throughout your life.
Ephesians 6:13 (MSG)
What are you diggin' this week??? I can't wait to find out.