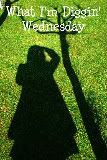 This week has been a whirlwind already, it honestly doesn't feel like it is only Wednesday. We've already had 2 soccer practices, 1 football game, and small group tonight. So, on to what I'm diggin' this week.....feel free to create your own What I'm Diggin' post and link up!
This is T....and this picture was taken by a friend at his first football scrimmage. I love this picture for numerous reasons. In this picture, you can see the hint of the young man he will soon be because of the way the shade and light are hitting his face. My heart swells and breaks because of that glimpse that you look for their whole childhood and the fact that it seems it's all happening so fast. When he hit Junior High, I am pretty sure that he walked through some sort of crazy time warp that made time speed up.
So, to make a long story even longer.....this picture shows that I am diggin' the whole school sport thang.....it really is a ton of fun. Sitting with your friends in the stands all cheering for each other's kids and being ridiculously loud and embarrassing about it helps. And the kids totally dig it. Plus, we are in Texas...hellooo? Friday Night Lights? Although, T's games are Tuesday nights and the sun is still shining bright. Now, that he has made the move to be a team player for the district I really need to be schooled in football. I have never been a fan....yes, I know, I will probably be asked to move. Hopefully, I'll run across a copy of Football for Dummies soon.
My niece, Baby B, how precious is that face? Don't you want to hold her and cuddle her and love her forever?? Me too. Which is why I find it inexplicably hard to not drop in and steal her everyday. This picture was taken at R's soccer game.....I thought she needed to get her first taste of futbol!
My one and only, favorite 9 year old girl in the whole world.....totally showing Hope Solo how it's done in the goal this weekend. She loves it and I really hope she sticks with that position, powerful girls rock!
I'm diggin' U6 soccer. Is this not the cutest thing ever?? G man and one of his teammates hugging in the goal. They then played tag on the way down the field. Love the innocence and silliness of this age!
What are you diggin' this week??