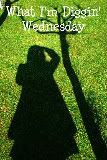 It has been a looong day. I walked into my 9 1/2 year old daughter's room today before lunch and came out...oh, about 4 hours later with a tub full of clothes that she has outgrown. I am definitely a bargain shopper....I rarely pay full price, as I've established many times....yet, I still spend a ton of money on clothes for the kiddos. Why can't they be like me and just rotate the same 7 shirts, 2 pairs of jeans and 4 pairs of shorts every day? So, now I have $1 million worth of name brand (as name brand as I get, hello! Old Navy and GAP) clothing sitting in tubs waiting for their new owner(s). I am giving them away because of the Back to School high I'm on instead of trying to get 50 bucks on Craigslist.
Pro: someone will be very well dressed for the ENTIRE school year. Hoodies, jeans, dresses, shirts...
Con: I will be broke like a joke replenishing my little darling's wardrobe....thanks for growing, kid.

Sorry, it's dark..but you get the idea. This is the amount of things she could NOT wear in her closet.

This week, I also registered my oldest for Junior High. He is now officially a 7th grader. I can honestly say I am not sure how I will be the first day of school. Think he;ll mind if I walk him in and kiss him in front of his friends? How about choking on my sobs? No? Dang.
What I'm Diggin' this week other than cleaning out closets and my kids getting older.....which I don't dig by the way.
Song of the week:
This song came on the other day and I sang my heart out....much to the dismay of my loathsome pre teen....seriously, I could've won a major karaoke award with my version. And if I'm not mistaken...this song was on the soundtrack of the Legend of Billie Jean (one of my favorite movies...ever). If it wasn't, it totally should've been.
Book of the week:
I am still reading my Sister Freaks book in the morning for my morning devotional. I also just finished reading another Kristan Higgins book. All I Ever Wanted. I don't even want to hear it all chick lit haters....because I am one of you yet I am friends with both sides. I used to not pick out a book if there was a cute dog, lady in high heels or anything that might look like a made-for-TV movie....but I love this author. She is funny and witty and has great story lines, even if they might be predictable. Plus, they are one of the cheapest selection of books in my Nook shop at around $5 each. So...there.
Product I am loving this week:
Paint (Olympic Premium low VOC's of course)
and brand spankin' new curtains.
I made the impromptu decision to redo one of our living rooms the other day on the way home from church.
I'll post pictures after we're done because right now I would be embarrassed of all the crap you would see that I own stuffed in the middle of the room.
What are you diggin' this week??? Link up now and tell me....and share the love (and the button) while you're at it.