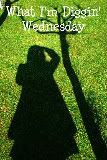 School starts next week for all three of my kiddos. This is bittersweet. T will be heading off to junior high, where I am determined that he will not find it as horrible as I did in 7th grade. R will be making her way to 4th grade, I have no worries here academically or behavior wise. She does what the teacher asks, she makes excellent grades....I just worry about the girl drama. Oh, the girl drama...are you with me girl moms?? It's just horrendous and it doesn't seem to matter what age the girls are anymore. I know a lot of this stems from mama drama and just trickles down to the girls but it's still brutal. I hope and pray she finds a group of good friends this year and not a lot of the little sneaky girls that you know act differently when parents aren't listening. G is going back to his pre school, to the teacher I love for him. I am so glad he's not heading to kinder yet, I am so not ready for that.
Yet, I've always loved back to school time, even when I was a kid. It's just a buzz in the air of expectations and fresh starts. Today we will be heading to get T's haircut.....so long to Bieber hair....even though he has said for years that he had the haircut first. We had Meet the Teacher at the junior high last night and it went well....he opened his locker on the first try and I guess now his only worry will be how to shower discreetly (but proudly) after athletics. Should be interesting.

Yep, 7th grade...aghhhhhh


My soon to be 4th grader!


My little guy

I'm diggin' makeovers this week! I would have had some pictures here of our living room we painted orange and the lime green cabinet that is now housing all of the video games but I have 2 boys conked out on the floor in there so I can't get a good picture. I'll try to get one later today. We also painted R's room baby blue and she now has peace signs all over her walls and her Bieber and Taylor Swift mecca is back up and displayed nicely. Again, she is still passed out so pictures will have to be later today. Yes, I should've been more prepared but that's so not me.
In honor of makeovers and fresh starts....a friend of mine sent me an email this week about this blog post. Not sure if I should have been offended or not due to the subject......kidding, she knows I hate to clean. Hate it, I tell you. She sent me this link to Curbly where this chick blogger tells you the easy way to clean but to do it correctly and where you avoid it forever. Simple steps for the slackers like me who hate to clean. This gives really great tips and honestly motivated you to go clean your house! I have a feeling this will come in handy next week when school starts because all summer I feel like I haven't had a deep clean, I've just been having to clean around people.
So go check out Curbly, a wonderful DIY blog, she has some amazing tips and posts!
Movie of the week (and no, not a tacky Lifetime movie, an actual movie):
Soul Surfer!
I loved this movie so much! R and I snagged it at Redbox and I am so glad I didn't wait for it on my Netflix queue. It was amazing and I sobbed like a baby probably 10 times. The family in the movie is Christian and I was so happy to see that family showing their faith unabashedly. If you haven't seen it yet, see it!
Song of the week:
In honor of Soul Surfer, one of my favorite songs from church,
Now, please let everyone know what you're diggin so far this week! And link up!