Who needs a gift certificate to a salon or for a massage?
What mom would rather have a spa day or a night out with the girls free pass....
when you could have this given to you by the most precious 4 1/2 year old on the planet??!!
My mom is cool.
I love my mom's chicken and noodles.
My mom loves me!
The best thing about my mom is SHE IS THE BEST!
This sweet little poem with the cutest drawing ever was wrapped in tissue paper and handed to me when I picked G up from pre school today. His teacher is the best...really. She asked the kids to finish the sentence and this is what he came up with.
And the picture he drew is of me....can't you tell??
When I asked him to describe it for me this afternoon he told me that it was picture of me wearing a purple skirt and that in the picture we were playing soccer and I fell into thorns, that would be what is sticking out of my leg.
I might have green hair reminiscent of Kid n' Play and have some wild purple lipstick but I love it.....so stinkin much.
Mother's Day gift at it's best....from the purest of hearts.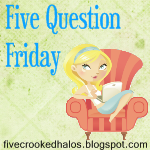 Now for 5 Question Friday:
For those of you that are new....go link up over at My Little Life. She lists the Sneak Peek on Thursday night and then you look for the linky list on Friday morning. Copy and paste the 5 questions listed and answer them...simple.
I'm so glad that it just happens to fit in well with my sweet little Mother's Day picture above.
1. Have you ever had roommates?
The only roomates I've ever had would be the same ones I have now. I didn't head to college (gasp!) instead I was married (very) young and started a family. I love my roomates. Yeah, they hog the 1 bathroom they have, they are sometimes smelly and often whiny and the oldest roomate in the house has a hard core snoring problem....but they give the best hugs and kisses and are pretty much the funniest kids on the planet. And for that oldest roomate...I couldn't live without him.
2. How many names do you/your children have? (i.e. Prince Charming William Phillip Arthur Louis John Jacob Jingleheimer-Schmidt)
All three of the kiddos have 3 names each. First, middle and last. Nothing fancy schmancy.
3. Did you watch the Royal Wedding?
uh....yes!!!! I DVR'd the Royal Wedding and watched it at 7 along with the whole family. Even the hubs got in on the action after his (many) comments about how he didn't see the big deal here. When I was a little girl I dreamed of marrying a prince just like many girls....this was a big deal. I love the romance and the pomp and circumstance all combined.
4. What is the messiest room in your house?
just one? okay, I will have to say the boy's room. They share a bedroom and have some awesome bunk beds. My oldest has claimed the desk that is attached to the bunk bed and the area all around it. Books, toys, collectibles, old papers that have the songs he has written, books, containers to odd objects, books. It's messy. I've actually warned the big kids that this weekend might be the weekend when I go crazy and clean their rooms for them...which is never good.
5. What is your ideal mothers day?
B...are you reading this?
Ideal Mother's Day would be a day where I am not expected to do anything. I would love to lounge. To drink as much coffee as I pleased. To receive hugs and kisses galore and just revel in the reason why I am able to celebrate Mother's Day. I am contemplating now how to celebrate Mother's Day with all of the other Mothers in our lives while still maintaining a low key day that Sunday.