Let me be upfront and honest....I am digging deep for things to dig this week....it's just one of those days. Doesn't that sound like the biggest Debbie Downer line ever...I'm picturing myself as Rachel Dratch right now.
On to the show....what am I digging this week??? Hmmm...
First thing to pop into my head is this amazing show that I happen to be watching now:
The Voice!
Who is watching this?? It is a wonderful idea even though it involves Christina Aguilera who I could really live without. My opinion.... how about letting Gwen Stefani rock the red lips and getting that genie back in the bottle. Seriously though....this show is the best.
I watched American Idol for a few years but came to the realization that I really only like the audition episodes. I really hope I can stick with The Voice though....these people that are trying out are AMAZING! I am personally pulling for the Javier dude who sang Time After Time (of course).
Wild Dill-Organic, Fair Trade and Natural!
The cutest clothes, toys and accessories for your sweet little kiddo. If I had a baby girl I would definitely buy this for her.
Look at that Peter Pan collar!!! Oh so sweet! They even have a SALE category so get to shopping!
Chop House Cheddar Burger at Whataburger
What???!!! Isn't this a "green" blog???
I'm not a vegan people! And I only satisfy a craving like that every once in a while...we don't even have a Whataburger in my itty bitty town. But when I pass one....all I can think about this burger which I had the pleasure of having once. Had it once and still thinking about it...yeah, that's a good burger.
Brightpoint for Children
I don't want to seem like that old dude that used to come on TV with pictures of sad orphans with swollen bellies and gnats everywhere...or maybe I do. I never knew about the kids behind those commercials, it basically turned into white noise after seeing it so many times. I read a book a few years ago that really got my attention. Somaly Mam was a victim of the sex trade in Cambodia and her biography, The Road of Lost Innocence, is amazing.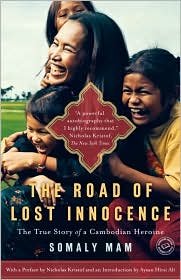 I found this one at Barnes and Noble but the one I read came straight from my local library

After I read this book, I realized that as a woman I could no longer ignore what I knew was happening in the world. It is no coincidence that I have some good friends who have gone to Cambodia on mission trips, to teach kids at the Hope for Cambodia orphanage how to do hair design to give them a skill they can use to empower them and maybe give them a career later on. The church we are now a part of helps sponsor this orphanage as well. B and I decided to sponsor a child from the Hope for Cambodia orphanage. This is the first time I have ever done this and my heart is so happy. There are lots of kids at Brightpoint who need sponsors to get them further in life, and not just in Cambodia. So, if you feel driven, take a look at the site and who knows? Maybe you'll see a child who was meant to be sponsored by you.
Village Feet
My friend, Tamara and her friend, Lauren moved to Cambodia in November. They are teaching English to the kids at the orphanage and spreading the Word while they are there. These young women amaze me each time I follow their day on their blog or their Facebook page. To be far away from your family and friends in a foreign country and making a difference in the world! Love this. Feel free to check them out and give them tons of encouragement.
Working nights?
My husband informed me....tonight...that he is going on nights for the rest of the week. In his line of work, this happens periodically, and usually means overtime so...YAY! But, there are pros and cons to everything and here's what I think about B on nights:
Pros:
he sees the kids before they go to school....if he's up.
we get to eat dinners without meat! B is a meat and potatoes kind of guy but when he's gone...we have all kinds of stuff: apples and cheese, mac and cheese, sandwiches....cereal.
I get more time with him....alone....when G is at pre school (wink, wink)
I can run errands while his eyelids are still fighting for light...if I'm really quick.
G gets out all sorts of energy while wrestling with him...which means I get to do fun stuff like clean the bathroom (wait, this is the pro category! ick.)
no one to second guess me or stall the kids getting to bed at night. I always seem to get them to bed quicker when he's working nights....hmmm...go figure.
no snoring to wake me up at night!
bed all to myself...at least until G climbs in at about 4 am.
Cons:
he's sometimes a wee bit grumpy when he gets home in the morning
I have to make him dinner earlier than we eat....unless I decide to be a slacker and let him pick something up on the way.
Snoring to make me want to claw his face-during the day.
I can't put up the laundry in my room (wait, this is the cons list....this could be a pro)
Sometimes it gets a little scary
How do you guys feel when your hubby is out of town for work or working nights?
Next up.....

old school games!
I've been playing Don't Break the Ice and Connect 4 like no body's business with G!
Song of the week

:
Mumford and Sons (how I love these guys...they are so brooding and...well, English...I just can't get enough of them)
What are you diggin' this Wednesday?? Feel free to share!