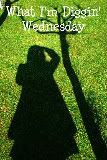 So far this week has been a blast. I have had the Durango piled up with kids everyday this week. Like I mentioned before, this week is Youth Week for our former church. I am so glad that we have been able to be surrounded by Christian youth everyday this week. We have had an amazingly fun scavenger hunt and we headed to Downtown Houston yesterday and rode the light rails and visited the underground shopping, which really turned out like a mall, and the kids wondered why we couldn't tell we were underground. But Jason's Deli was amazing and riding the light rail with the kids was a trip. I was so scared that we would get off at our stop and see one kid still on the train. Luckily, they all got off in time and were able to wreak havoc on Houston. Today that group is heading to the ASPCA to volunteer, which T has already said will be tough after losing our sweet Doberman this past Friday. And tonight we are going to OUR church's summer youth group, Summer Nights. Great music and even better company while they praise God. And I get to grab a coffee with my friends. I'd say that's a good night. So...on to what I'm diggin' this week.
Book of the week:
This book has stories that really make you think and reflect. Love it.
Song of the week:
Who doesn't love One Republic??
It IS a Good Life!
Picture of the week:

Riding the Light Rails in H-Town
What are you diggin' this week???
Link up and tell me!
Simple rules of blog hop:
1. Follow me. :)
2. Follow who follows you if you pick up what they're throwing down.
3. Spread the word and share the hop.