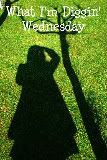 I decided to turn my humble little What I'm Diggin' Wednesday into a hop! I'm sure it will take a while to get it going and to get plenty of people linking up but I have patience and hope that it will be fun. What I'm Diggin' Wednesday used to be a way for me to put out there the things I was really into during the past week. Now, I'll add a bit of that, encourage you to do the same (pertaining to your blog theme of course) and then I'll add some fun questions because we all know we like to talk about ourselves. So, let's dig in......(okay that was cheesy)
Once you get to the questions just copy and paste them into your post. I'm a little late with it this Wednesday but from now on I will have a link up ready on Tuesday night.
I'm diggin' a few things this week....I'm still listening to Otis Redding so I won't bombard you with vidoes of his again. I will give you this one though, by Sanctus Real, Lead Me. I love this song, it just brings tears to my eyes. (What doesn't really?)
This next one is pretty self explanatory. Once I heard the words "break my heart for what breaks yours" I was a goner.
I am loving the Aveeno Smart Essentials Anti Fatigue Eye Treatment!! It works! At least, I think it does, and that's what counts. My eyes were looking pretty puffy and well...old. I started using this in the morning and at night along with my moisturizer routine and I really like it. It feels nice and cool when you are rolling it on.

A steel ball keeps it nice and cool
I downloaded a few books the other day on my Nook Color. I usually don't go for the (extreme) chick lit books, especially with a cover like this one. (I know, I know, don't judge a book by a cover, blah, blah, blah) But this one was on sale, and I was low on reading material. I have been pleasantly surprised by this easy read. The character has a good sense of humor and the plot is yes, predictable, but cute nonetheless.
Kristan Higgins-Fools Rush In

Covers like this usually make me move along, they look like a book meant for someone in the 6th grade
 
Speaking of the Nook Color......here's another think I never understood until I tried it. And now I.must.defeat.it.

Angry Birds!!
Now on to the Q & A portion of this hop:
1. What is your biggest pet peeve?
2. One pantry staple that your family could not live without?
3. Favorite piece of clothing....you know the one....the one that you wear at least once a week?
4.

Favorite scripture or mantra that you tell yourself when the going gets tough?
5. Most hated household chore?
....................................................................................................................................................................
1.

What is your biggest pet peeve?
Most definitely.....people who take themselves to seriously. You know these people....they can not take a joke. They like everything to be extremely serious and downcast all the time and think you are beneath them if you don't want to discuss politics or religion all the time. These are the ones who argue on Facebook and who look for things to be controversial about. Ugh. get.a.life.
2.

One pantry staple that your family could not live without?
In my house, peanut butter reigns as the King of the Pantry. My 4 year old doesn't really eat meat....or much else. So, peanut butter and honey comes to save the day.....way too often.
3.

Favorite piece of clothing?
This would be my vintage Auburn v neck. When I say vintage, I mean it. This was my dad's shirt in college and I love it. It is soft, comfy and can look effortlessly cool with a pair of jeans.
4.

Favorite scripture or mantra?
Be Still and know that I am God...
Psalm 46:10
I need this tattooed on the inside of my hand like a cheat sheet.
5.

Most hated hosehold chore?
The bathroom. I have 2 sons and 1 husband. Enough said. ick.
Now, link up and have fun! The only "rules" I have is to follow me and if you feel like it grab the hop button to spread the word. Because this is the first edition of the hop....I will randomly pick a blog to spotlight next week and I will ask for them to be followed as well. I want this to be fun....but would love if we could be courteous to each other and encourage one another by leaving a decent comment when we follow or follow back. You will want to do this if you follow blogs you actually want to read. If you are already following Staying Home and Staying Sane, I would love it if you could "like" me on Facebook or follow me on Twitter (both are on my sidebar). The fun part of this is to copy and paste the questions along with what YOU are diggin' this week and then linking up that post. Like, I said, I am way late with it today but please hop on....